Program
First of all, the program is an electronic cookbook. A screen shot looks like this: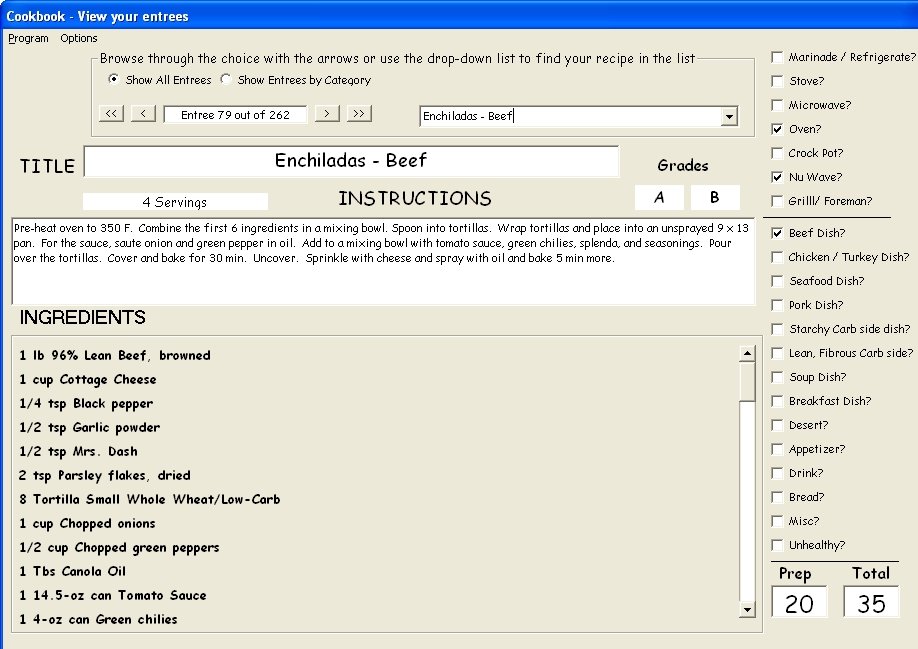 At the top, you can scroll through the recipes, or use the drop-down. You can also sort the recipes by categories, just like a cookbook (subdivided by "soups", "deserts", etc). However, unlike a paper cookbook, you can make a recipe fit into multiple categories (example: store a shrimp and chicken chowder under both "Chicken dishes" and "Seafood dishes", without overstuffing your cookbook, since it is electronic:

With a click you can view the nutritional information for any dish:

If you ever edit one of the ingredients or the recipe itself, this information is automatically updated. And let's face it, we have all altered a recipe for our own tastes! This eliminates the guesswork.
Have you ever made an amount different from the recipe - for instance, a double-portion? Or maybe a half-portion? You have to multiply all of the ingredients in your head. If you forget one ingredient, the taste changes. This program has a feature that allows you to multiply the recipe by an amount, and all ingredients shown in the list are automatically updated!
Want a paper copy? With the click of the mouse you have an 8.5" x 11" paper to store in a binder.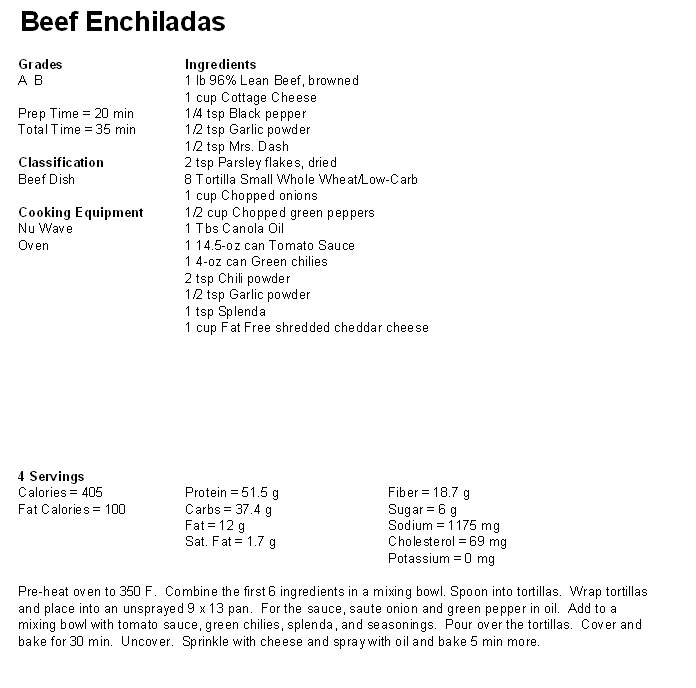 One problem I have is that I cannot remember how much I liked a recipe. As a result, I added a feature that allows you and one other person to assign a letter grade to the dish. When creating a menu, you can filter it based on dishes with an "A" or "B" letter grade or by dishes that you have not tried.
Looking down the right-hand side of the computer screen-shot quickly shows what kitchen equipment is used (or can be used), as well as the category or categories that this dish fits under. There is even a category for "unhealthy" because let's face it, we have a few good ones we use for those special occasions!
Click here to view more
Click here to go back
Click here if you are interested in a copy.